Diesel – The kitchen with an industrial twist
Just like a workshop, the kitchen consists of several functional areas with various compartments and materials.
The modular structures of the Steel tubes, with a stylistic approach capable of merging and enhancing shapes, functionality, vintage spirit with contemporary styling. Impeccable care for details, which makes up the genuine personality of this kitchen, in the profiles of the handles incorporated into the door, the frame of the doors themselves and of the shelves, the feet and the corner elements.
Inspiration plays the starring role; not just in the elements which characterise the design, but in the very essence of the project: the strict alternating blocks and voids, the painstaking care for details, the pursuit of the perfect materials make this a "simple" design, yet concurrently an absolutely mesmerising vision.
Design your unique appearance.
---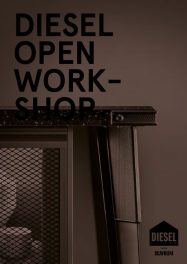 Diesel Brochure